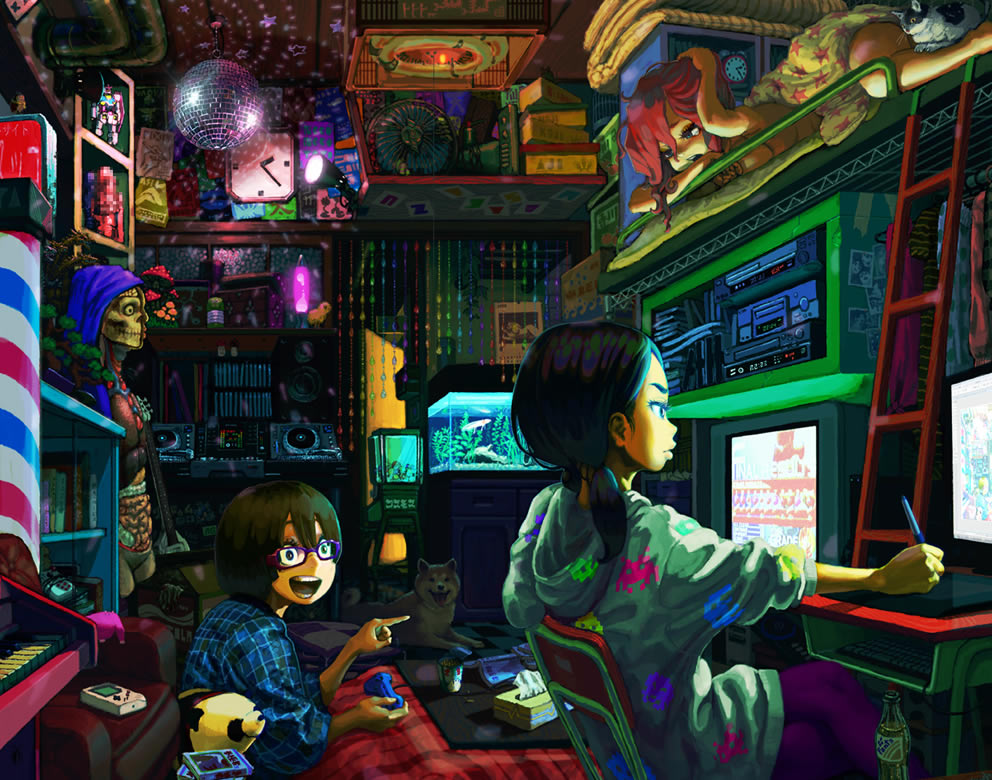 Digital art by Jon Taira.
this post? Please share:
Like or comment on this post using Facebook...
July 15th, 2010 at 3:46 pm

That's awesome, I see Street Fighter on the TV and a blurred out phallic thing on the shelf.

July 15th, 2010 at 4:18 pm

I would kill to have a dorm or room thingie like that.
Well not kill, but you get my drift hi?

July 22nd, 2010 at 7:58 pm

Did anyone notice the chick on the top bunk is naked…..if you didnt… take a closer look. ;)

July 22nd, 2010 at 10:17 pm

Where the hell kind of dorm can you have PETS?!

July 23rd, 2010 at 12:50 am

Did anyone notice the censored dildos on the second shelf down? Not a kid-safe picture.

July 23rd, 2010 at 1:00 am

Did I notice the first comment? No. Observation fail.

July 23rd, 2010 at 5:11 am

I'm sure since it's censored, it can be considered SFW.

July 23rd, 2010 at 10:28 am

When is any dorm room 'kid-safe'? lol. Love the space invaders hoodie the girl drawing on the wacom is wearing. And I had a cat in my dorm at my first college. Note, the RA didn't know about it, but it didn't stop me from sneaking it in. ;)

July 23rd, 2010 at 12:38 pm

Looks like no commenter noticed, aside from myself, the girl wearing the space invaders hoodie using the wacom tablet is DRAWING the picture we are all looking at! Haha

August 4th, 2010 at 9:25 pm

Haha, this definately resembles my friends and I in our dorm last year.

August 11th, 2010 at 2:31 am

amazing pic !

August 13th, 2010 at 11:13 am

yeah, the dorm rooms at the uni here are much too small for all that stuff to fit in it

August 27th, 2010 at 11:18 am

If it weren't for the fact that the image is actually called "The Dorm" I wouldn't have assumed it was a dorm room. Even with three people, in a city like Tokyo or somewhere, that would be considered a pretty decent-sized apartment.

September 14th, 2010 at 6:45 pm

Thank you BrattyB – thought I was the only one:)

September 26th, 2010 at 1:52 pm

Soooo kawaiiiiii!

September 26th, 2010 at 2:14 pm

everyone is talking about the cat but no one seems to see the dog

October 6th, 2010 at 8:30 pm

This is nicer than my dorm, or atleast cooler

January 13th, 2011 at 9:27 pm

@16 You mean the Akita Inu lying there? I didnt notice there was a cat really, I just saw the dog. Selective perception lol.

February 8th, 2011 at 5:20 pm

all i noticed was the panda…

February 10th, 2011 at 10:24 am

Sooo why is there a Panda? i guess things like this can only happen in "The Dorm".

February 10th, 2011 at 4:49 pm

CarlitX, you're right. The girl with the space invaders pajamas, drawing on the wacom, IS drawing the picture we're looking at. Lol, had to look really closely to see it.

February 14th, 2011 at 1:04 pm

The artist is Jon Taira.

February 14th, 2011 at 7:48 pm

Thanks updated and also added link.

March 17th, 2011 at 8:52 am

There is only one bed, so in about two hours this place will be even better

March 19th, 2011 at 6:00 pm

right above the fish tank is a calender with a lady lying naked on it…..

April 5th, 2011 at 2:28 am

no one seems to be talking about the gundam on the top shelf

July 1st, 2011 at 12:14 am

This would be an awesome image for one of those search/find games. lol. Awesome image.