Mannequin Portrait
March 26th, 2010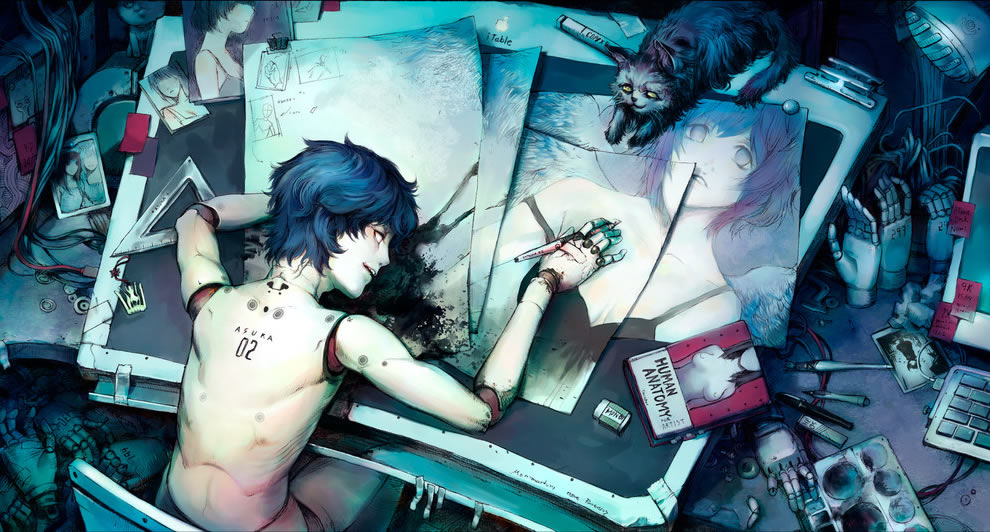 Art by Patipat Asavasena, Thailand.
this post? Please share:
Like or comment on this post using Facebook...
March 27th, 2010 at 5:55 pm

Love the surreal tone to it, and especially the details!

March 27th, 2010 at 9:53 pm

Wow. I like "HUMAN ANATOMY" lying on the table and the sticky notes on the computer.

March 28th, 2010 at 9:16 am

Beautiful sense of colour

March 28th, 2010 at 10:15 pm

haha loving the iTable :)

nice picture!

March 29th, 2010 at 11:50 am

I need to love it! it's wonderfull!

March 30th, 2010 at 3:26 pm

Very beautiful work! I love the "iTable," the ink splatters, and all the pictures of that same, mysterious girl. I like the colors too. Very nice.

March 31st, 2010 at 9:49 pm

I like the veiled Neon Genesis Evangelion reference. With the name Asuka, and 02 on her back.

and the iTable-genius

April 9th, 2010 at 12:23 pm

asuka nice catch on the nge reference,the first thing that popped into my head was asuka langley, but if anything i'd think its actually a reference to ayanami also (being as she was the empty shell that kept being recreated.

September 22nd, 2010 at 5:39 pm

NGE references??? This is just my opinion, but I thought this was just an original drawing. And the mannequin is male, unless boobs are no longer included.
It could be something about the Evangelions themselves, but I doubt it…
Anyway, absolutely captivating picture, the details, the irony… It's all so beautiful!

September 22nd, 2010 at 5:43 pm

Wait wait wait the Asuka is actually the artist. So, absolutely no NGE reference.

January 20th, 2011 at 2:47 pm

Defiantly Evangelion related! There's a picture to the left that looks similar to Asuka. A girl smiling with red hair.
I think it has something to do with Ayanami not actually being human, so she strives to be "real" like Asuka.