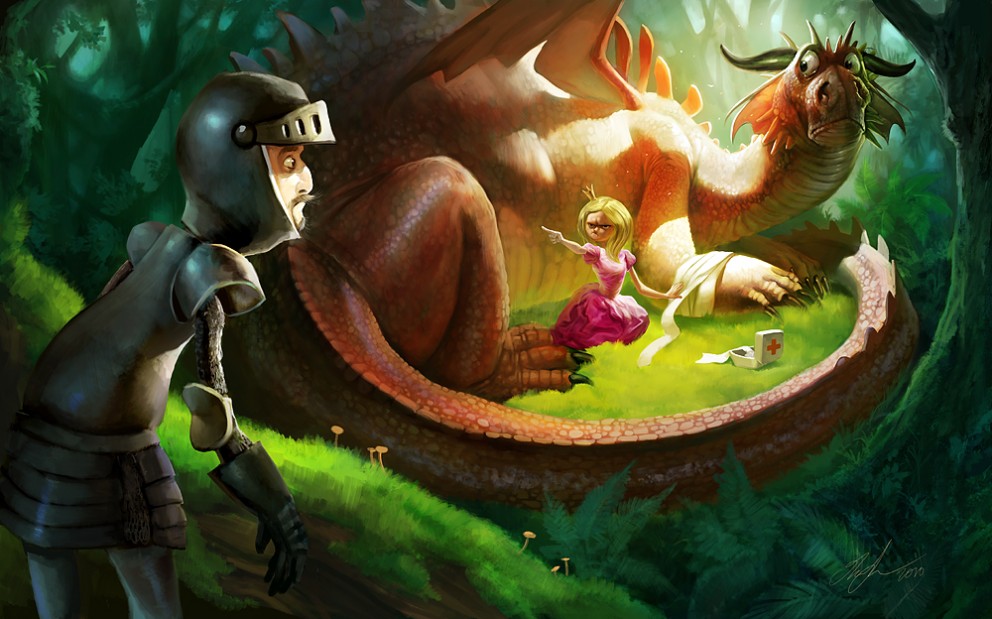 Story book illustration by Therese Larsson, Sweden.
this post? Please share:
Like or comment on this post using Facebook...
October 14th, 2010 at 12:55 pm

awwa poor thing.

October 15th, 2010 at 6:26 am

AWESOME!!!!

October 15th, 2010 at 9:42 pm

Adorable!

October 17th, 2010 at 2:58 pm

HA HA!

October 23rd, 2010 at 2:43 am

haha! how ironic!

October 23rd, 2010 at 3:02 am

baaahahahaha shame

October 31st, 2010 at 8:26 pm

This is so gosh darn funnyyyy!

October 31st, 2010 at 11:44 pm

Haha, I love how pissed she looks, and the pointing of the finger.

November 4th, 2010 at 2:51 pm

There was a series called "The Enchanted Forest Chronicles." In it, a princess runs off to the dragons so she doesn't have to marry a prince. This picture reminds me of that.

November 5th, 2010 at 4:16 am

This is so great…her look, the light…amazing! very very nice

November 6th, 2010 at 11:35 pm

This isn't good, it's brilliant! Needs to be submitted to Spectrum and a number of other magazines! Everything about this works to perfection! Amazing work!

January 13th, 2011 at 10:30 am

Lol, its twisted all the fairytales around!!! XD Amazin…!

January 19th, 2011 at 7:47 pm

nice dragon.. haha

January 21st, 2011 at 6:50 pm

Definitely one of the coolest illustrations I have ever seen. The look on the dragons face is absolutely priceless.

February 9th, 2011 at 4:51 pm

OMG i love it! and the dragons face… AWE

July 20th, 2012 at 2:18 am

You nailed it. I love it!