The World In The Year 3000
June 2nd, 2010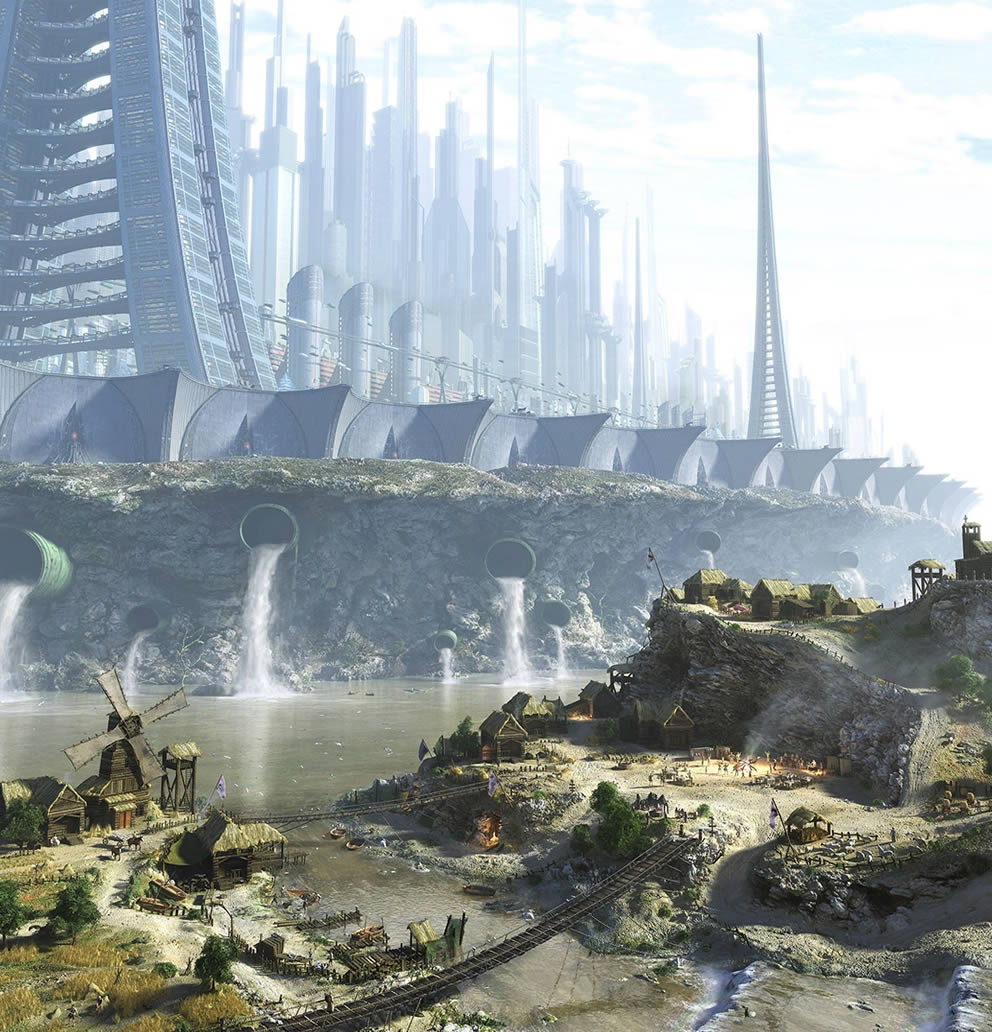 Undoubtedly the most extraordinary art we've featured here on Coolvibe, Radoslav Zilinsky's 2007 artwork "The World" caught our attention a while ago, and we know we should've shared it earlier :) The level of detail is astonishing. For more of his work, check out Zilinsky's site.
this post? Please share:
Like or comment on this post using Facebook...
June 2nd, 2010 at 3:08 pm

phenomenal! Thank you for sharing!

June 2nd, 2010 at 7:25 pm

This one is really stunning. I love the ramparts on the city walls and the strange juxtaposition with the tiny hamlet.

June 5th, 2010 at 12:14 pm

I appreciate the commentary as much as the artwork. A powerful image.

June 11th, 2010 at 7:48 am

Photoshopped. I can tell by the pixels.

June 23rd, 2010 at 3:48 pm

its not a photo dumbass

July 2nd, 2010 at 5:53 pm

you just got trolled dumbass

July 4th, 2010 at 10:04 pm

you're a douchebag dumbass

July 7th, 2010 at 9:13 pm

really? hes saying its shopped as a joke lol

oh and your comment about it being shopped is shopped… i can tell

July 8th, 2010 at 12:11 am

From the size of those pipes It looks like the big city could really flood the little one if everyone decided to flush at once. Or will they have done away with super bowl commercials by the year 3000?
Beautiful art work I think this will be my desktop for some time to come.

July 16th, 2010 at 6:16 am

ergo proxy, sunny edition…

July 18th, 2010 at 7:39 am

Does this look like its straight out of Final Fantasy VII to anybody else!?

July 19th, 2010 at 8:32 am

I wish Final Fantasy VII looked like this. lol

July 19th, 2010 at 9:14 am

the pic kinda reminds me of that anime Ergo Proxy, very creative pic though

July 20th, 2010 at 4:12 pm

Wow, what an original picture (at least for me). If the chasm between rich and poor continues like it is, it's a very believable future too.

July 22nd, 2010 at 4:52 am

this is seriously the best interpretation of the future ever published.

its says so much about what we are now, and where we're heading. the sheer brilliance of the craftsmanship so astonishing and the details are so immaculate that it could be a photo from the year 3000.

July 22nd, 2010 at 9:54 pm

Lets hear it for the agrarian lifestyle.. The meek will inherit the Earth….

July 23rd, 2010 at 1:35 am

My question is, why every time there is an image like this there is such a technological disparity?

For example, if we were to drive out to the country we wouldn't see canvas windmills and thatch huts. Not even in Amish country. So why is there always a medieval tech level society right next to a high-level one?

July 25th, 2010 at 6:32 pm

Here's a reason for the disparity- how many resources in the area would have been used up to build that city? Sure, trees grow back but metal does not. A lot of the resources needed to build a modern or futuristic city are non-renewable.

July 26th, 2010 at 12:34 pm

Stunning art, amazing detail; I'd just love to see more views of it (it's 3D CGI). I've seen it few years before. Just want to clarify some details:

- The name of the artwork is "Worth enough", not "The World"
- Author's name is Žilinský, there is no need to misspell with Unicode

You can see the wireframe and sketchwork on http://www.maxarea.com/image.php?id=293, just below the image

July 28th, 2010 at 7:32 am

StripMine: The answer is bioplas. Bioplastics are fully renewable, and as the technology matures, will be able to take the place of many materials. Metals are not renewable – but what if we produce something that looks like metal, feels like metal, and works much, much better than metal? There's limited interest in this for now because we have ample metal, which keeps the price of metal low. But when it runs out, other materials will fill the breach seamlessly. Resource limits are rarely as insurmountable as people think.

July 28th, 2010 at 12:24 pm

outstanding. the artist really captured the idea of as the world get's "newer" it's really destroying itself, however, it's rebuilding at the same time. It's one of those little things that shows me that there's still hope for the world

August 4th, 2010 at 8:48 am

Stunning artwork, would like to think that hamlet could exist then.

And can I say Thanks to 'Arrgh' the 'Photoshop Queen' Troll, I actually did LOL at such stupidity.

August 7th, 2010 at 2:31 pm

definitely shopped! whodya think ya fooling, mmea aint no kidz

August 7th, 2010 at 2:32 pm

oh.. btw, if we have a liveable piece of land by 3000. seriously, who thinks humanity will survive that day?

August 8th, 2010 at 4:08 am

Thanks for sharing this image, very inspiring indeed. Thanks.

August 17th, 2010 at 7:36 am

I was thinking Brave New World- the sterile, aesthetic world versus the dirty, nasty and primitive world of the Savages.

August 17th, 2010 at 4:39 pm

i see tons of zoning problems here!!! haha

August 17th, 2010 at 8:03 pm

This is ridiculously similar to a dream I recently had. If something like this ever happens, I will cry,

August 20th, 2010 at 9:11 am

There's several additional renderings/views of the model here: http://www.deviantart.com/print/8876276/

August 25th, 2010 at 12:32 pm

As far as I'm concerned this is a very optimistic vision, as there is no possible way we will survive that long.

September 1st, 2010 at 10:41 am

This looks straight out of Ergo Proxy haha

September 1st, 2010 at 8:10 pm

I do like the picture, its very creative.

Although I do think that in the year 3000, even the poorer class would at least have have some kind of metal housing or something of the sort.
The way it looks kind of reminds me of a medieval setting. Very cool. :]

September 2nd, 2010 at 6:23 am

This pic reminds me of the difference between North Korea and South Korea

September 2nd, 2010 at 12:27 pm

A very interesting image of the future. Extreme wealth and advanced technology juxtaposed against poverty and backwardness. Very possible if wealth continues to be distributed as it.

September 2nd, 2010 at 9:51 pm

its like the oblongs on adult swim only in real life and futuristic

September 3rd, 2010 at 5:53 am

have you ever thought that some people would reject the technology and revert to such a simple way of life, whats to say that they dont have advanced medical facilities for all and that they just want to choose to live that live away from the city, if such a future is possible then rejuvenation is also possible, therefore it could be a form of holiday for a life away from the fast running city

September 24th, 2010 at 12:12 am

Quite possible… Future seems quite horrible.

October 5th, 2010 at 7:08 pm

nice to live down there..

October 6th, 2010 at 8:49 pm

yeah but dont worry we have a solution for this.. the ecologists have made a movie regarding this problem.. u can check this movie 'DAM999′ this yet for the release..

December 30th, 2010 at 8:55 am

have you ever thought that some people would reject the technology and revert to such a simple way of life, whats to say that they dont have advanced medical facilities for all and that they just want to choose to live that live away from the city, if such a future is possible then rejuvenation is also possible, therefore it could be a form of holiday for a life away from the fast running city

January 14th, 2011 at 2:28 am

I ben der once.

January 20th, 2011 at 6:35 pm

lol yeah right.. the world would be loonnngggg gone by then.

January 23rd, 2011 at 3:36 am

to everyone who said that is photoshoped:

do you really think so? i think that the guy just made a time machine and went into the future and took the photo. it's more credible…

January 24th, 2011 at 7:49 pm

um WOW

January 25th, 2011 at 9:50 am

I bet they still wondering where there flying cars are?

January 26th, 2011 at 3:21 am

This is just incredible. Great job to the artist who made this picture. I can literally look at this picture all day and not get bored. This is a very powerful image and thanks for sharing.

February 16th, 2011 at 7:52 pm

Reminds me (fondly) of places I've been to in Korea. There was one specific place in particular I'm thinking of, that had big, very nice, gated apartments right next to smaller, somewhat run-down, traditional style houses.

Absolutely fantastic work!

February 20th, 2011 at 11:57 pm

To all those who said the earth would be long gone by then, true but who said this was earth? Could be another world we colonize which we are already looking for another planet similar to earth for when this one is done for.

February 23rd, 2011 at 2:35 pm

this isn't art. it's time travel.

February 27th, 2011 at 2:22 pm

You are being too optimistic on future….. a clearly poor vision on future poverty, Horses, Windmills, water to navigate…. would you expect also fish and meat for free in 3000? I think your vision is less realistic than what the future is saving for our descendants… sigh.

March 7th, 2011 at 2:30 am

The poor get poorer and the rich get richer…

March 13th, 2011 at 9:56 pm

i'll be happy to be the poor side of this city,there bound to be to many presure in the city

March 22nd, 2011 at 5:03 pm

Everyone is contrasting this as "the rich get richer, and the poor get poorer." That's not at all how I see it.

Why would the poor be using antiquated buildings and technology? Do the poor have windmills now? No and they wouldn't in the future. If it was truly a wealth situation then the "poor" would use the scrap and the garbage of the "rich" not revert to log cabins.

I think that this is more of a group of people who have thrown aside technology. New technology might be bright and flashy but does it make life better. The people in the hamlet say no.

April 20th, 2011 at 6:57 pm

I found the piece very provocative. This quibbling over whether we will be here or not in the year 3000, not so much. Enjoy it for what it is. Thanks for sharing!

August 14th, 2011 at 8:59 pm

That is being to forgiving of our selves, In the year 3000 we will all be dead and the world will be a wasteland. Because the human race are as stupid as rocks, even thou some stones are shinnier then the rest we will destroy our world with greed and power before it will look like that picture. In defense of what is truth as I just wrote, the human race does have a uncanny ablility to survive and adopt. So… I do hope that it will look like that, but doubtful!

January 3rd, 2012 at 6:42 pm

I am very glad that the piece of artwork that is displayed is doing that which it was created for…provoking thought and comment. That is what all art is for. Therefore all comments and thoughts that it brings forth, be they profound, simplistic, or just plain dumb are ALL relevant.

January 27th, 2012 at 9:29 pm

There are two options that may be in this picture, it may be a kind of a get away place to just kick back and live the simple life like we do today by vacationing on remote islands, or it could be a parallel earth co existing with our own, either way it's a beautiful rendition of a maybe future, thanks for sharing.

April 7th, 2012 at 4:00 am

We are already there you only have to look at some of those shanty towns in south africa backed up against the walls of the flash hotels and towns

April 26th, 2012 at 9:21 am

I think human using surrogates are allowed to live in cities others refuse surrogacy
and live outside the city!!